Do I need building consent?






In Auckland, building and planning rules come from four key sources:
Resource Management Act - ensures the environmental effects are managed well
Auckland Unitary Plan - outlines which activities are permitted and what you need resource consent for
Building Act 2004 - sets out the rules for construction, alteration, demolition and maintenance of new and existing buildings
Building Code - states how a building must perform in its intended use
Resource consent
A resource consent is written approval (which may have conditions) from Auckland Council to carry out a project that will impact the environment or may affect other people. For example, you may need to apply for resource consent for activities such as:
building a house
developing or subdividing land
undertaking earthworks
removing vegetation
Building consent
All building work needs to comply with the Building Code, and many renovation projects will need a building consent. This is to ensure the work is safe, durable, sustainable and won't endanger the health and well-being of the property owners and users. You may be fined and/or receive an infringement notice for unconsented work, and council can remove it if it's dangerous or unsanitary.
Restricted building work (RBW)
Restricted building work is work that is critical to ensure your home is structurally sound and weathertight. You must use Licensed Building Practitioners to design and carry out RBW.
The rules around RBW are part of the council's role in consenting and inspecting building work. It protects you and future owners by recording who worked on your home and how that work meets the Building Code.
Licensed Building Practitioner (LBP)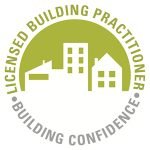 LBPs are people who have been assessed and meet the standard of skill required for particular areas of building practice. They are registered and must keep their skills and knowledge up to date.
Your choice of designer, builder or tradesperson is important as not everyone is an LBP.
This information is intended to be a general guide only. Please ensure you seek professional advice for your particular project. You can find more information on the building and consents process from Auckland Council or by contacting Qualitas Builders.