While renovating your home or building a new one is fun and exciting, it can also be really challenging. With so many available choices, making decisions for your new build can leave you feeling totally overwhelmed!
We recommend you start by prioritising the important decisions: budget, choosing your architect and builder and finalising your design.
Set a budget
Rather than your budget being the amount you can save or borrow, work out how much you need to spend in as much detail as you can. Think about:
Your must haves versus your wishlist
The current condition of your home
The size of the area you're renovating
The value of your home and comparable homes in your area
A 10-15% contingency fund
Choose your team
Your architect or designer and builder are critical members of your team. They should be suitably qualified, understand your needs and budget, and be great communicators. Ask friends and family for recommendations and check out their previous work. If you're comparing quotes, make sure they include the same scope of work, materials, fixtures and finish. Your team will have so much experience and will be invaluable in helping you make decisions for your new build.
Spend time on the design
Start by thinking about how you'll use your home and how your needs will change in the future. Collect ideas you love in a folder and on Pinterest. You should see some common themes start to emerge such as textures, finishes, colours, materials, tile styles etc.
While there are minimum standards for insulating new homes and additions, consider spending a little more to exceed these requirements and gain even better efficiency and reduced energy bills for years to come. If renovating, consider new double glazed joinery or retro-fitting a double-glazing system to existing windows.
Give your architect or designer a thorough brief and clear understanding of your budget. Agree on a concept, then look at your plans in detail and consider how the rooms flow, the amount of light, the materials used and whether there is adequate storage. Make any alterations before submitting your plans to council, as changes to the consented plans can delay progress and increase costs.
The devil is in the details
It's never too early to make decisions on the finer details. The building process will go much smoother if you've already chosen items like the tiles, paint, bathroom fittings, appliances and other fixtures.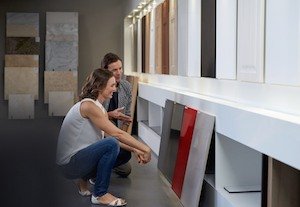 There will be times when it all feels too much. Make sure to take a short time out to treat yourself and regroup. Then remind yourself how amazing your home will be once it's finished and get back on track to achieving your dream home!